Assistant General Manager
Le Pain Quotidien UK
Parsons Green
What is required?
Graduate or equivalent
Minimum of 1 year in a similar position
Excellent communication skills, time management, attention to detail
Strong people skills and a proven track record of people development
Effective trainer and a solid Food Safety and Health & Safety knowledge
Excellent command of the English language
What will you get?
Competitive pay
45 hour work week
28 days holiday
Participation in a non-contractual tronc scheme that can earn you between £2-£4 per hour depending on how busy your bakery is (including the management team). Participation in a performance-based bonus scheme.
Great work-life balance
Free, nutritious and organic meals while working and generous discounts when off duty
Perkbox
Cycle to work scheme
Study support and professional qualifications with an industry-leading and apprenticeship scheme
Up to £200 cash reward for every recommended team member and up to £500 cash reward for every recommended manager
In-house training academy offering an exciting portfolio of courses and development paths
6 monthly team survey
Regular socials
Regular team and companywide incentives
What will you do?
40% Managing and supervision the service
30% Managing and coaching the team
20% Business Administration
10% Consultation with Manager
This vacancy has been created based on interviews with employees to help you get a realistic preview of the job.
Vacancy
As an Assistant General Manager at Le Pain Quotidien you are responsible for the day to day running of the service. You are the General Manager's right hand and ensure that guests feel at home at all times. You do this by setting an example, driving service standards,  welcoming and inducting new employees, coaching, training and motivating your team.
You ensure that you build a strong team that can deliver the high quality service that guests can expect at Le Pain Quotidien. You open or close the bakery and take care of the (daily) planning/organisation, sso that everyone knows what is expected of themhim or her. During the day, you are the point of contact for guests and employees. You will be dealing with the team issues/questions and you will be in charge of resolving any guest complaints promptly and appropriately. At the end of the working day, you count the cash register and report the achieved results to your Manager and/or District Manager. You also check the orders and supply of products, so that there is exactly enough stock of each ingredient and product. Together with the Manager, you will lead a team that consists of Kitchen staff, Hosts and occasional temporary workers.
If you enjoy making guests happy, get along well with different types of people, and find it challenging to work hard, then this is a job for you.
Working week
Assistant Manager

We like to keep busy. There are so many opportunities to connect with guests and to coach the team in action. We always ask ourselves, how can we improve the service and our skills even further.
Slow days are not as much fun, we don't like when time passes slowly. But, even administration jobs needs to get done, and this is a good time for it.
A guest wants to make a reservation for more than twenty people on a short notice. How do you proceed?
You invite the guest to your location/organize a phone call to discuss the possibilities. What is the occasion the guest would like to use your location for and what are their wishes are?If a reservation is for a large group of people, you may choose to offer a simplified menu to take the pressure off the kitchen. You place an order remembering the large booking and schedule extra staff so you can provide excellent service to all your guests. You'll inform the wider management team.
Growth
You will receive four weeks training program when you join us and a sign-off at the end of your 3 months. You will be supported by our training manager and your centre of excellence trainer. Your work mentor will provide guidance with on-the-job learning complimented by job specific online courses. You will have regular catch-ups with your manager and engaging development workshops in our Farming Academy.
Working at Le Pain Quotidien UK
Le Pain Quotidien (French for 'daily bread') is an all day bakery chain founded in 1990 by Alain Coumont. Alain was dissatisfied with the quality of bread in Brussels, so he started making his own sourdough bread using only four ingredients: water, flour, salt and time. Now Le Pain Quotidien has more than two hundred restaurants in fifteen countries, spread over three continents.
Headquarters in Brussels, Amsterdam, London and Paris

5.000 employees worldwide

Active in 15 countries

41% / 59%

Black outerwear
Colleagues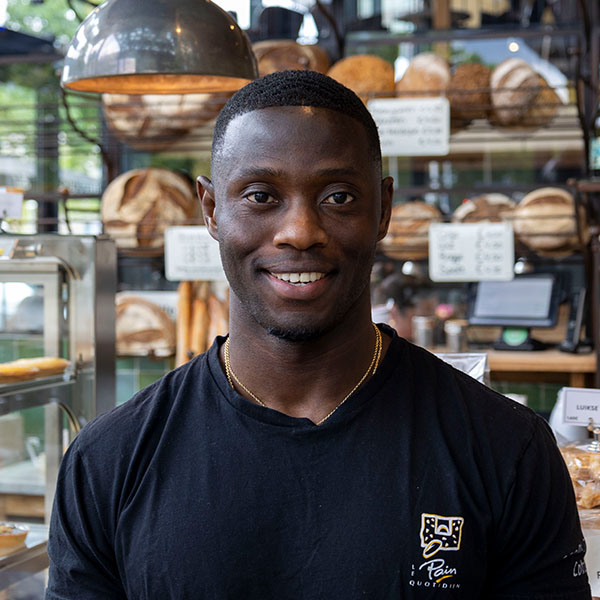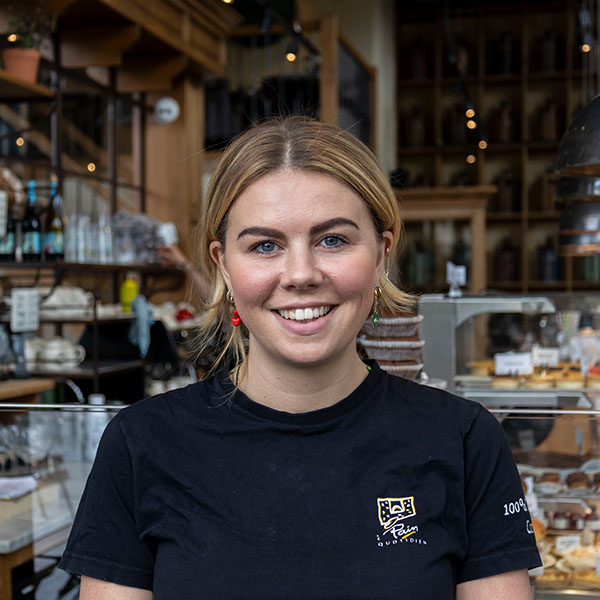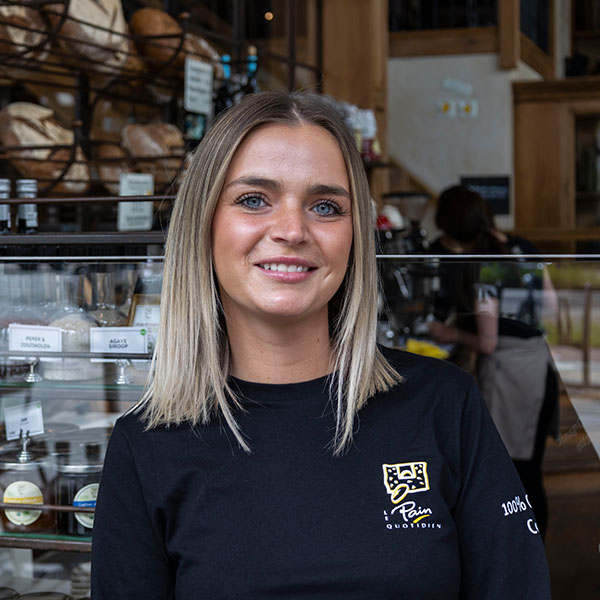 Emmanuel kofi Amponsah - Kitchen Assistant
Why did you decide to work for this company?
Food makes people happy and especially good food makes people happy! There are not many other jobs where you can make people happy every day. It's good to see your regulars come in knowing they've come because they love the food and services you provide as a Kitchen Assistant.
What did you study?
Bsc Marketing and Informatica.
What do you do in your spare time?
Shopping, working out and clubbing with friends.
Lenka - Supervisor
Why did you decide to work for this company?
The favorable working hours, good ambiance and the chances you get offered.
What was your previous job?
Host
What do you do in your spare time?
Spending time with the people I love.
Margot - Student
Why did you decide to work for this company?
Le Pain Quotidien was already known to me, I went there several times for breakfast. My sister started there as a student and once a shop opened near where I lived I saw my chance to start there.
What was your previous job?
Student at Carrefour.
What do you do in your spare time?
Going out for drinks and good food.
Application process
Telephone interview
In-person meeting with a General Manager
A short observation/trial
Interview with a District Manager
You got the job!