Kitchen Team Member
Kitchen Team Member
Le Pain Quotidien UK
Monument +
What is required?
High school level of education
1 year experience in a similar environment
Great communications skills and a passion for food, food preparation and team work
Positive and energetic, you enjoy engaging with people
Excellent command of the English language
What will you get?
Competitive pay
12-45 hours per week
28 days holidays
Participation in a non-contractual tronc scheme that can earn you between £2-£4 per hour depending on how busy your bakery is
Free, nutritious and organic meals while working and generous discounts when off duty
Perkbox
Up to £200 cash reward for every recommended team member and up to £500 cash reward for every recommended manager
6 monthly team survey
Regular socials and companywide incentives
In-house training academy offering an exciting portfolio of courses and development paths
What will you do?
60% Preparing dishes
30% Washing up and cleaning
10% Labeling, health & safety
This vacancy has been created based on interviews with employees to help you get a realistic preview of the job.
Vacancy
As a Kitchen Team Member at Le Pain Quotidien, it is your responsibility that guests are served high quality and presentable dishes. You prepare tartines, salads, breakfast dishes, sandwiches and quiches and make sure that all products are up to the expected standards. We have detailed recipy cards that are very helpful, especcilay for new team members.At the beginning of your shift, you'll do the preparation, such as cutting, chopping & roasting vegetables and preparing sandwiches for the reail part of the business. You will set up your station and make sure you have everyting ready to go for the busy service. As for waiter to collect. 
You rotate washing up, preparation and cooking with colleagues, so that your work is varied. At the end of the day, you deep clean the kitchen, store away ingredients and lable them accordingly.  You should make sure you keep everything clean, safe and tidy while you work. You need to remember allergens and cross- contamination. In this job, you have varied working hours and you will be scheduled between 07.00 and 19.00 hours. When you start at 07.00 o'clock you are responsible for the opening and set up of the kitchen/sections and when you work closing shift, you make sure, together with your team mates that everything is left clean, hygienic  and tidy up to the Le Pain Quotidien Standards for the colleagues working the next day.
If you are interested in cooking, passionate about food and you, you enjoy working hard as a part of a team, and you like an active and hands on job, then this is a job for you.
Working week
Kitchen assistant

On a good day, there is a strong team in the kitchen working well together to make the guests happy.
On a less enjoyable day, we are short of staff and have to work extra hard to prepare dishes one time.
Opening the kitchen

Lunch

Washing up

Consultation with colleague

Lunch service/breakfast service or dinner service

Ingredients preparation

Ingredients preparation

Opening the kitchen

Washing up

Lunch service/breakfast service or dinner service

Ingredients preparation

Lunch

Cleaning

Washing up

Deep cleaning

Lunch

Washing dishes and supporting colleagues

Ingredients preparation

Lunch service/breakfast service or dinner service

Lunch

Cleaning
You want to make an avocado tartine but you ran out of key ingredient in the drawer. What do you do
You check with your colleagues from the kitchen and see if there is still a piece of cheese somewhere. It is indeed there, so a colleague helps you by quickly cutting the cheese while you finish the rest of the tartine on the plate. The dishwasher stops for a moment because the colleague is helping you with the cheese slicing, Then you can help them again later. Teamwork is therefore extremely important in the kitchen.
Growth
You will experience blended learning. Your job team buddy will provide guidance with on-the-job learning complemented by online courses. You will have regular catch-ups with your Manager and engaging development workshops in our Farming Academy.
Working at Le Pain Quotidien UK
Le Pain Quotidien (French for 'daily bread') is an all day bakery chain founded in 1990 by Alain Coumont. Alain was dissatisfied with the quality of bread in Brussels, so he started making his own sourdough bread using only four ingredients: water, flour, salt and time. Now Le Pain Quotidien has more than two hundred restaurants in fifteen countries, spread over three continents.
Headquarters in Brussels, Amsterdam, London and Paris

5.000 employees worldwide

Active in 15 countries

41% / 59%

Black outerwear
Colleagues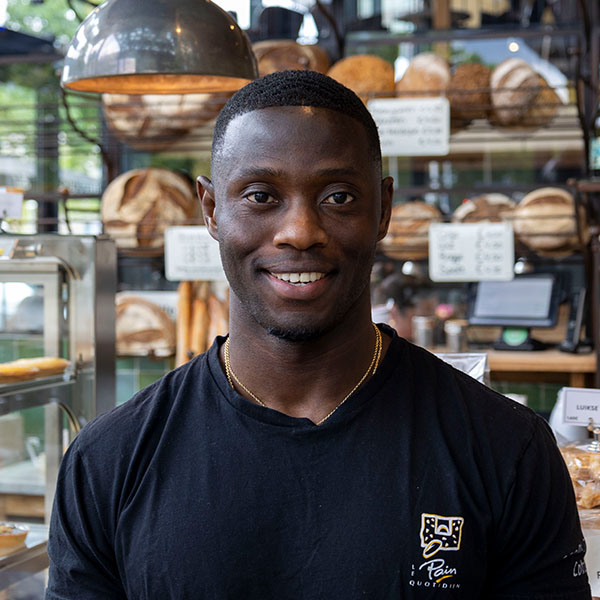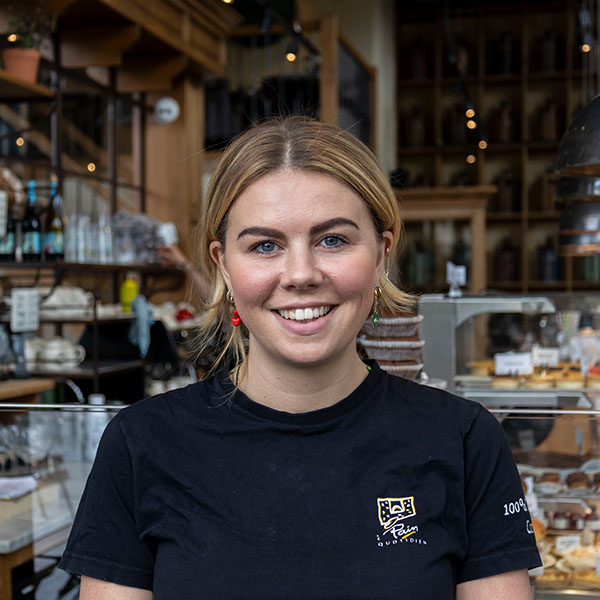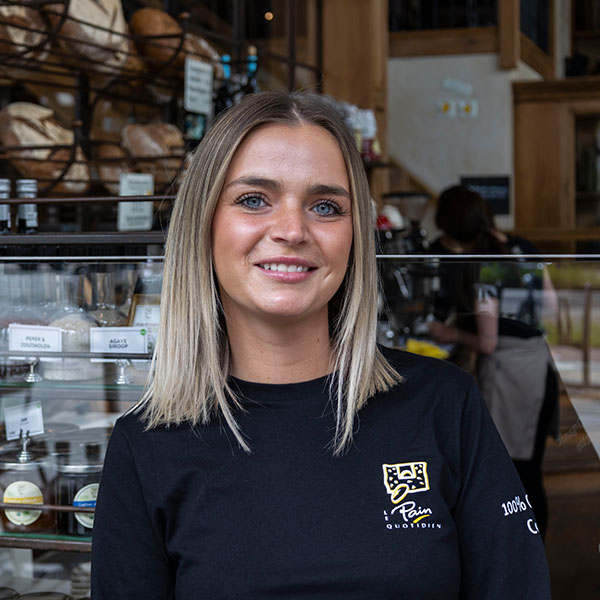 Emmanuel kofi Amponsah - Kitchen Assistant
Why did you decide to work for this company?
Food makes people happy and especially good food makes people happy! There are not many other jobs where you can make people happy every day. It's good to see your regulars come in knowing they've come because they love the food and services you provide as a Kitchen Assistant.
What did you study?
Bsc Marketing and Informatica.
What do you do in your spare time?
Shopping, working out and clubbing with friends.
Lenka - Supervisor
Why did you decide to work for this company?
The favorable working hours, good ambiance and the chances you get offered.
What was your previous job?
Host
What do you do in your spare time?
Spending time with the people I love.
Margot - Student
Why did you decide to work for this company?
Le Pain Quotidien was already known to me, I went there several times for breakfast. My sister started there as a student and once a shop opened near where I lived I saw my chance to start there.
What was your previous job?
Student at Carrefour.
What do you do in your spare time?
Going out for drinks and good food.
Application process
Telephone interview
In-person meeting with a management team member combined with a short trial
You got the job!